Review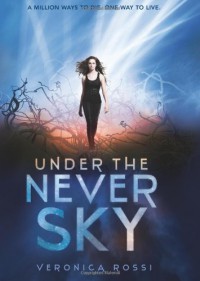 Aria lives in Reverie, an enclosed pod where the Dwellers are kept safe from crime, disease, and the dangers of the unpredictable Aether storms. Beyond the walls of the pod lies certain death in what the people call The Death Shop. Aria spends her time much like most of the people in Reverie – in the Realms. The Realms are virtual environments where the people can experience life in ways that aren't possible in the current world.

Aria has been on her own in Reverie ever since her mother left for Bliss to do DNA research. They try to speak every day, but now that the connection has been lost to the other pod she is very worried. Aria can't seem to get any information about what is going on in Bliss and is resorting to a very undesirable solution. Aria is going to hang out with the son of the head of Reverie's security. They are going to break into Ag6 – a disabled pod. Disaster strikes and Aria is accused of a crime and forced out of the pod and left to die in The Death Shop.

Perry, an Outsider who has never known the safety and security that Aria has grown up with, is struggling with life in his tribe. As the younger brother of the Blood Lord of the Tides he is part of a very important family. The only thing that keeps him coming home is the love he feels for his nephew, Talon. Perry comes from a very powerful line of hunters who use their acute sense of smell to sense danger, food, and even emotions. He is convinced he can rule the Tide tribe, but is reluctant to challenge his brother for control because he worries about Talon's feelings. But, when Talon is abducted by Dwellers and Vale (Perry's brother) refuses to go after him, Perry is forced to head out on his own to bring him back.

These terrible events throw Aria and Perry together and force them to cooperate with each other in order to survive. Will Aria be able to find out what happened to her mother? Will Perry be able to rescue Talon?

On the perilous journey through the dangerous wilds and Aether storms, Aria and Perry form a strong bond. A bond stronger than either of them have ever experienced before. A bond that never should have happened. A bond that can never be. UNDER THE NEVER SKY is intoxicating. Full of mystery, adventure, romance, and betrayal it is practically impossible to put down.